GreenWood Forest Park in North Wales is moving towards the completion of what will be the first solar powered ride in the UK. The ride uses the suns energy to pump water to the top of the ride, where riders will jump on and fly down the hump back chutes and spiralling tubes.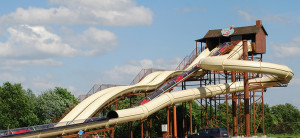 North Wales has had recent recognition for its excellent array of adrenaline activities that has seen the world turn its head and acknowledge the area for its unique and pioneering activities. The new Solar Splash ride adds to the momentum of Zip World and Surf Snowdonia, helping cement the area as the place to go for those seeking an adrenaline adventure.
Gearing up for a grand opening in early Spring, the new ride projects to attract an increased amount of visitors to the region, all in search of thrills and fun on this revolutionary ride. Solar Splash is powered through a 150kW Photovoltaic Array that is able to supply all the power that the ride needs, as well as up to 80% of the energy quota of the park in a whole year.
At a total cost of £850,000 GreenWood Forest Park's Solar Splash ride is considered to be a significant investment into the North Wales area, with long term aims to increase tourism and strengthen the economy. In coalition with the Welsh Government, who have supplied £200,000 towards the project, the ride will aim to build on last year's visitor figures of 146,000.
Stephen Bristow of GreenWood Forest Park said: "The Park attracted record 146,000 visitors last year, so we are very pleased that Visit Wales are supporting the development of the next exciting new ride to help even more people enjoy North Wales".
As the Visit Wales backed 'Wales Year of Adventure' campaign becomes well underway, the new attraction hopes to contribute to the campaign that will present Wales in all of its glory aiming to increase visitors and the profile of some of Wales' unique attractions.
GreenWood Forest Park's latest addition is open to the public in early spring and is a great place to check out for those in search of a lovely trip to North Wales. Whether you're after a relaxing trip, or an adrenaline-adventure range of activities, GreenWood Forest Park between Bangor and Caernarfon, North Wales is an excellent choice.
Comments