If, like a lot of people, you use the free messaging service Whatsapp, be aware of a new scam doing the rounds!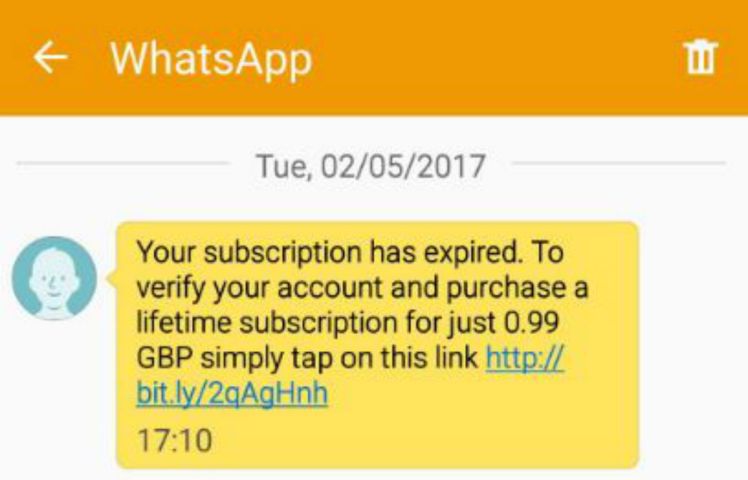 Some users of the messaging service Whatsapp have reported the scam message (pictured above) appearing from a contact apparently named 'WhatsApp'.
If you receive this message, delete it immediately and do not click the link contained inside.
Had what I think is phishing text, saying #WhatsApp sub had run out and I needed to pay 99p for lifetime, giving card details.#ScamAlert

— Marika Cobbold (@Marikacobbold) May 30, 2017
@WhatsApp I e got a message say 99p for life usage of WhatsApp . What's up . Fake ?

— Carlos (@HollowayCarl) May 30, 2017
Whatsapp, during it's first year, did charge 99p to users but this was quickly scrapped. The scam asks users to 'verify' their account and purchase a lifetime subscription for 99p. Do not click the link or hand over any personal details.
This fake WhatsApp text message claims the service is about to start charging people! https://t.co/r1o4I4wwch pic.twitter.com/AYUkR1zHTC

— Action Fraud (@actionfrauduk) May 31, 2017
@WhatsApp is there still a £0.99 fee? Just got a scam looking message..

— Jamie McConnell (@jamiemcconnell) April 23, 2017
It is not known where the scammer obtained the pool of phone numbers from.
Comments